A musician from the music group named Ethic was yesterday caught allegedly breaking into a house in Nairobi's Eastlands.
Swat mtoto wa Eunice and another accomplice survived lynching by the residents who caught them.
"Swat of Ethics Music Group getting a beating right now for allegedly breaking into my neighbors' house. Why waste such a talent, this kid has a bright future. So sad indeed!" tweeted Kentezy.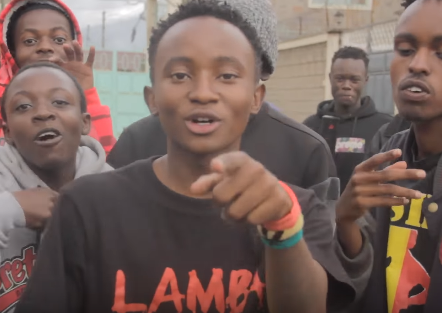 In a video seen by Kenyans.co.ke, the Lamba Lolo artist is seen wriggling his arms and clutching his stomach in pain while trying to explain himself.
According to online reports, the duo was running from the Police when they broke into the home.
The angry mob was asking for the youngsters' parents' contact in order to inform them of what their sons had been up to.
Swat's fans and netizens alike were disappointed in Swat's involvement in the alleged robbery.
A section of Kenyans, however, took the opportunity to make jokes out of the incident.
Youtube vlogger Masia KTA quipped that the Positionhitmaker, was clutching his belly because he swallowed a stolen mobile phone and it was now vibrating in his stomach.
A Twitter user by the name ItsVundi made reference to one of the artist's lines, arguing that swat was being true to his lyrics.
Many netizens wondered why Swat thought it was a good idea to commit a crime with a t-shirt that had his name branded on it.